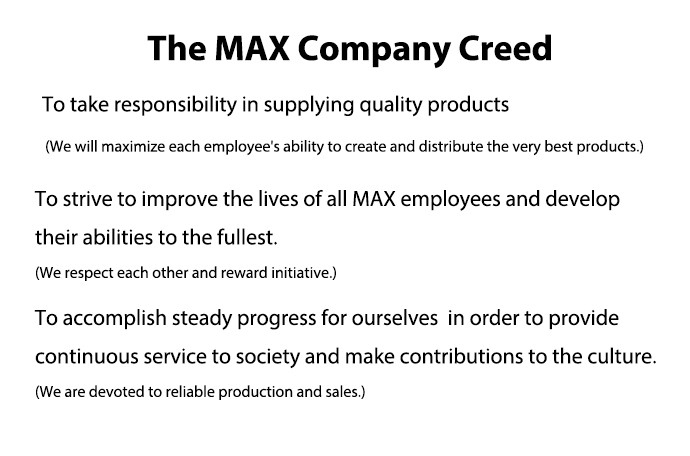 MAX's initiatives for our concept of ESG are our activity process toward the realization of the MAX Company Creed.
It is our mission to fully leverage our capabilities and technologies to create and continuously sell good products that our customers and society demand, regardless of how much the world changes. We seek to contribute to society by creating products that are convenient and comfortable for our customers' lifestyle and work, and by realizing a company that continues to exist steadily.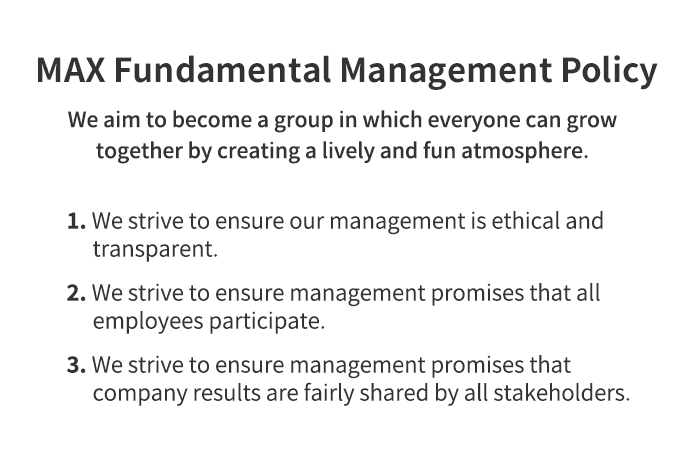 MAX believes that our company grows when we respect people and support the growth of people. "Respect for people" has been our basic spirit since our founding. Our corporate color, "Human Red," visualizes our spirit of "respect for people" and expresses "warmth and growth as human beings."
MAX encourages each employee to fulfill a leading role and work toward personal growth. This concept is stated in MAX Fundamental Management Policy. We believe that nurturing people, realizing a company that continues to exist steadily, and securing stable employment are important forms of social contribution by a corporation. Moreover, with the aim of further serving society and contributing to culture, we will aggregate our employees' work to create new value. Also, by continuing to supply customers and society with useful goods, we will enable MAX to grow further as a company. We will fairly distribute the results we have produced to our stakeholders and fulfill our role as a member of society.
MAX's Concept of Manufacturing
Under the corporate vision of "Making work life easier and more enjoyable worldwide," MAX works on responding to needs of our customers, understanding changes in our society, and creating and introducing unique products by following our strict jobsite-oriented and customer-first principle, thus creating new markets and establishing realms where we stand as No. 1 or the only one.
MAX was established in 1942 as a manufacturer of airplane parts, which required the highest level of metalworking technologies of that time. Aer WWII ended, we utilized press technologies and wire rod processing technologies*1, which we had developed in the pre-war era, to produce products which stand as No. 1 or the only one in the industry, such as staplers (we were the first Japanese manufacturer to produce them), auto staplers*2, pneumatic nailers, concrete reinforcing bar tying machines and tape binding tools, and thus contributed to improving the efficiency of work in offices, building and construction sites, as well as agricultural and food industries. Also, as the aging of society has progressed, the need for a more convenient lifestyle has been increasing. To answer this need, since 2000, we have expanded our business to home environment equipment such as "DRYFAN," a heater-ventilator-dryer for bathrooms, as well as home care and rehabilitation equipment such as wheelchairs.
*1

This technology is the basis for producing consumable items for our products, such as staples for staplers and wire for rebar tying tools.

*2

Electronic staples that are loaded into copy machines.
Strengthening Systems for Promoting ESG Initiatives
At MAX, we have begun general discussions on ESG initiatives at bodies such as our Board of Directors, management meetings, and Corporate Governance Committee. Furthermore, through dialogue with shareholders and investors, we share awareness of ESG and ascertain the external environment.
Currently, we have set up an ESG Promotion Team headed by the officer in charge of the management department. Within the Team, the corporate staff department fulfills a core role in organizing initiatives related to ESG. If issues with high priority and importance are identified from the perspective of ESG, they will be raised as an agenda item at meetings of the Board of Directors, and will be discussed by all officers, including outside directors.
Increasing Interest in SDGs as Opportunities for New Growth
The growing interest in SDGs (Sustainable Development Goals) has caused the business surrounding MAX to change significantly. In the past, our focus was on on-site customers such as construction companies for rebar tying tools, carpenters for nailers, and farmers for bag closing machines. However, due to increased awareness for the overall supply chain of major corporations, there are increasing opportunities to make proposals to companies such as general contractors for rebar tying tools, house manufacturers for nailers, and supermarkets for bag closing machines. As a result, MAX will be able to contribute to "making life and work easier" for even more people by proposing products created based on the voices of on-site customers to our customers' entire supply chain.
Moving forward, MAX will strengthen our approach to the entire supply chain of our customers. Through dialogue with shareholders and investors, we will review our ESG initiatives and work to solve even more social issues through our business.